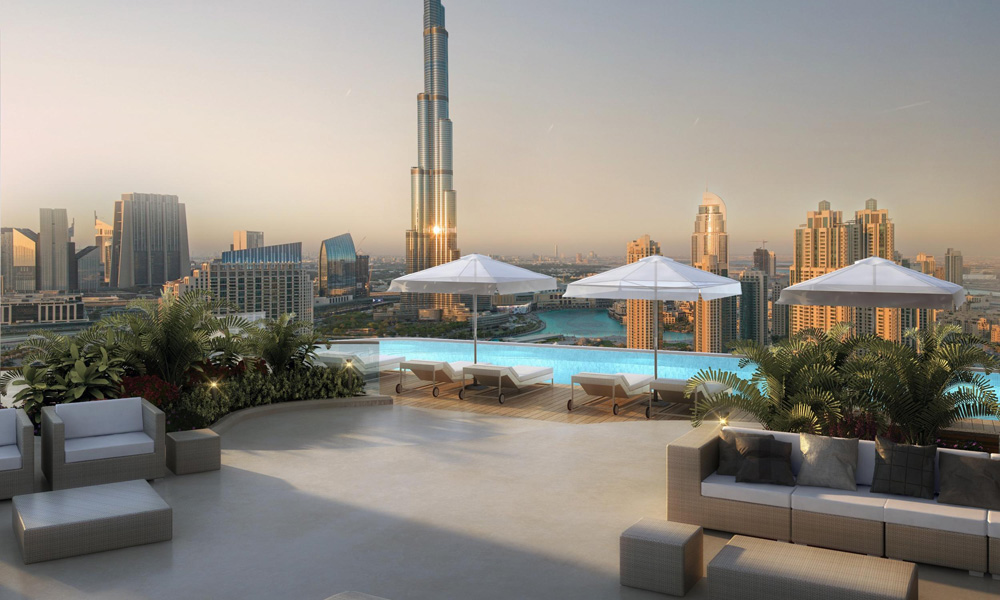 Reshaping the Future of Hotel Design
As the coronavirus pandemic spreads globally, architects and interior designers are increasing research and technical skills to identify new patterns that will be incorporated into designing hotels in the future. One reality is clear: all elements and spaces will be designed with minimum human contact and will drive guests to enjoy the spaces just through the visual sense. As an industry we must identify short-, mid-, and long-term design strategies and technologies that will provide the comfort, service, and graciousness of current hotel design, enhanced with safer, cleaner, and healthier environments. At U+A, we have identified some of the initial design changes that would be instrumental for the hospitality industry in a post-COVID-19 world:
Technology that minimizes human interaction:
Touch-free interactions and technology-based sanitization will evolve as a new normal for hotels. We will also see robots in housekeeping, automated entry systems, one-card identification systems, automatic lighting systems being adopted by hotels. We need to see a reduction in several touch points required to navigate through the hotel. Upgrading digital solutions for valet and luggage tickets, mobile keys and check-in, and digital or biometric pay points at food and beverage, retail, and spa outlets will represent the new norm. Additionally, current design features like doors, faucets, hand dryers, and water closets must be updated with touch-free technology to minimize the number of elements the guest must touch to operate.
Reimagining materials:
We will see a shift toward hard surface flooring, antimicrobial materials, non-porous surfaces, and finishes, as well as touch-free fixtures, will become mandatory. Hotels will appropriate from healthcare design while reimagining these materials in inspiring ways. New self-cleaning and antimicrobial fabrics should be used for wall coverings, drapes, and bedding.
A New In-Room Experience:
Anticipating guests' desire to spend more time in-room and away from large groups post-COVID-19, room layouts should be modified for multi-functionality, enabling guests to dine, work, meet, and workout all from the safety of their rooms. New technology like digital wall displays will provide the ability to project life-size events and meetings and customized art palettes or view natural scenes like a beach, mountain range or forest stream. Hotel operators should expect a boom in this type of technology to transform the in-room experience.
Social Distancing Design:
Hotel operators will have to intentionally and seamlessly design public spaces to support the decor of the overall hotel and reinforce safe social-distancing and hygiene practices. Communal areas of a hotel with a higher risk of surface contamination like health clubs, salons, and swimming pools, will incorporate proper social distancing design. We also believe hospitality projects at the top end of the spectrum may choose to redesign these facilities to have appropriate social distancing. At the same time, these amenities can disappear altogether from mid-range and business hotels.
The hospitality industry is—and always will be—about choice. The job of hotel operators, owners, brands, architects, and designers is to create dynamic environments and unique experiences that offer travelers the ability to choose their adventures. In the post-COVID world, that mission has not changed, but it has expanded to include another level of choice. Hotels, by way of necessity, will prioritize safety and sanitation. Still, the hospitality environment must also incorporate flexible ways in which visitors can exercise their sense of well-being, given an array of choices.
About the Author:
Martin Dufresne, graduated from the acclaimed Azrieli School of Architecture and Urbanism in Canada in the mid-90s before relocating to South East Asia, where he attained his design knowledge on a large scale with HOK Asia Pacific in Hong Kong. Martin also worked in Singapore for three years as Senior Design Architect with award-winning Kerry Hill Architects. After moving to Dubai in 2005, his work has since matured in multi-disciplined on a variety of building types. Throughout his career Martin's design has been instrumental in attracting highly regarded clients expecting only the most exceptional quality development with an international elegance. He has worked closely and directly with prestigious clients such as Hines US, IBM, PRC, Telecom PRC, China Telecom PRC, Centrair Japan, Aman Resorts Singapore, GHM Hotels, Beaufort Group, HK and Abu Dhabi National Exhibition Company to name a few.